EPIC RIDES
We are a none profit group of riders dedicated to litaure, history and the freedom of the open road. Our goal at EpicRides is to facilitate amazing riding opportunitys to anyone interested in experiencing the lure of the open rode.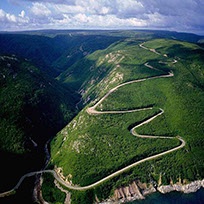 CABOT TRAIL
Hugging the coast of Cape Breton Island in Nova Scotia, the Cabot Trail offers 187 miles of "stunning mountain and sea vistas, fishing villages and delightfully twisty pavement" says Dale Coyner. Off the bike, the island offers a rich Celtic heritage (complete with foot-tapping tunes) and an excellent series of hiking trails to explore.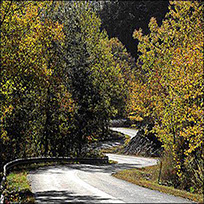 PIG TRAIL SCENIC BYWAY
According to our expert Bill Belei "the northwestern portion of Arkansas is a mother load of fantastic motorcycle roads, and the Pig Trail is at the top of the heap." This 19-mile stretch of Arkansas 23 passes through a curvy tunnel of foliage in the Boston and Ozark Mountains, and the charming Victorian town of Eureka Springs is closeby, with loads of restaurants, shops and accommodations.
BEARTOOTH PASS
Starting in the town of Red Lodge, Montana, hair-curling Beartooth Pass - one of the most popular stretches of pavement in the Rocky Mountains among motorcyclists - takes riders on a hair-curling 68-mile journey down into Wyoming and right to the northeast entrance of Yellowstone National Park. "Steep switchbacks and stunning vistas make it a motorcycling favorite," says our expert Dale Coyner.
TAIL OF THE DRAGON AT DEAL'S GAP
Beginning at Deals Gap on the Tennessee/North Carolina state line is the Tail of the Dragon. It is considered by many as one of the world's foremost motorcycling and sports car touring roads. Anyone looking for an exciting highway will enjoy this 11-mile stretch of US 129.The Dragon is desolate and can be a real adventure in the winter months.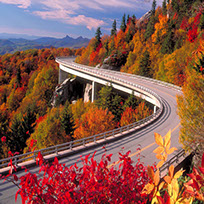 BLUE RIDGE PARKWAY
The iconic Blue Ridge Parkway wanders for 469 miles along the spine of the Blue Ridge and Appalachian Mountains, connecting Great Smoky Mountains National Park in North Carolina with Shenandoah National Park in Virginia. It's a long one - a destination unto itself - but luckily, it's lined with numerous access points and cool towns, like Asheville, Brevard and Blowing Rock to help break up the trip. "For many riders, a ride along the Blue Ridge Parkway is their pinnacle motorcycle ride of their life," says Bill Belei.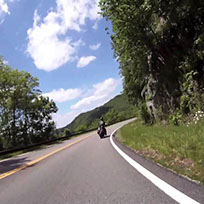 CHEROHALA SKYWAY
The Cherohla Skyway, located in western North Carolina and extending into remote Eastern Tennessee, isn't far from its more well known cousin – Tail of the Dragon at Deal's Gap. "Although its twists and turns are not as extreme as Deal's Gap," explains motorcycle travel expert Bill Belei, "at 45 miles, it's 4 times as long and therefore preferred by riders who like a longer ride with a less challenging path."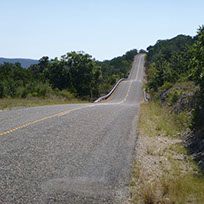 THREE SISTERS (TWISTED SISTERS)
One of the most popular rides in the Texas Hillcountry takes riders along Ranch Roads 335, 336 and 337, better known as the Three Sisters or Twisted Sisters. With scenery that motorcycle travel expert Bill Belei describes as "as good as it gets, along clear rivers, through very twisty mountain type curves amid real Texas Ranches," it's a perfect way to experience Texas at its friendliest and most beautiful.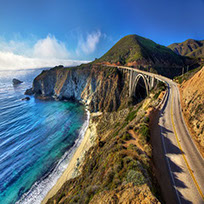 PACIFIC COAST HIGHWAY
Motorcycle expert Bill Belei describes the Pacific Coast Highway as "THE quintessential American road trip," with jaw-dropping Pacific views to one side and the dramatic cliffs of the Central California coast to the other. The 123-mile stretch between Monterey and Morro Bay takes riders through Big Sur and past worthy stops like artistic Carmel-by-the-Sea, Hearst Castle and the must-photograph Bixby Bridge.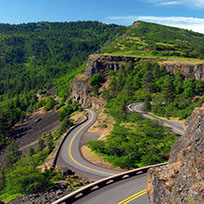 SAN JUAN MOUNTAIN SKYWAY
The Colorado Rocky Mountains provide a stunning setting for a ride no matter what road you choose, but the 236-mile San Juan Mountain Skyway represents the crème de la crème, "the perfect collection of scenery, turns, and great places to check out along the way," says Bill Belei. This curcular path through Southwestern Colorado takes riders through the mountain towns of Durango, Silverton, Telluride and Ouray, ideal for turning a day trip into a long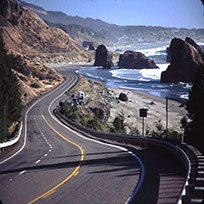 U.S. HIGHWAY 101
U.S. Highway 101, also known as the Pacific Coast Scenic Byway, takes riders on a grand tour of Washington's Olympic Peninsula, showcasing "the diversity of the region's ecosystem, from colorful ocean tide pools to a rare temperate rainforest to alpine meadows and ancient forests," says Dale Coyner. It's about 350 miles from Olympia to the Oregon border, at which point the scenic road continues on down the Pacific coast.
Our Primary focus is on developing amazing rides that our members can enjoy. We believe that there is safety in numbers as well as the opportunity to meet new people while enjoying the ride or rides of a lifetime.
Like, Join, & follow our pages to get how to videos, industry news and get in on our Contests!